A memorial of our beloved Tödlich Asylum.
Edit
Tödlich Asylum, a roleplay agency based on asyums. Now has been forcibly shut down by the goverment due to the bad, (obviously faux) rumours revolving around our management.
"We are terribly sorry for every wrongdoings that we have done."
- S and V.
Tödlich Asylum
Edit
"Was built in 1913, Tödlich Asylum had been chosen as one of the most prestigious and contributing asylum for 102 years straight. We are always eager to be of help to society, always doing our best in everything that we do."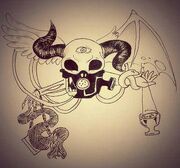 Latest activity
Edit
Photos and videos are a great way to add visuals to your wiki. Find videos about your topic by exploring Wikia's Video Library.
Ad blocker interference detected!
Wikia is a free-to-use site that makes money from advertising. We have a modified experience for viewers using ad blockers

Wikia is not accessible if you've made further modifications. Remove the custom ad blocker rule(s) and the page will load as expected.